Clark 2000 - Reunion Report:
This years reunion's was held on July 30th, at "the boom" in Narrows Virginia. While many cousins lent a hand to help this event come together, the main organizers were: Mary Clark Baldwin, Carol Bowles Madero, Sandi Campbell, Nancy Millirons, and Barbara Tate.

Thanks goes out to all those who gave generously of their time and the much needed items that they supplied. A special thanks goes out to:
Mary Baldwin and Sandi Campbell, who supplied all the prizes that were passed out at this years event; to Carol Bowles Madero for placing the notice of the reunion in the newspaper; to Barbara Tate for her exceptional effort in helping with setting up, decorating and cleaning up of the pavilion.

Everyone chipped in to make a wonderful meal. Some supplied the much needed dinnerware products, some brought tasty homemade dishes made from their favorite recipes, and others ordered delicious food that was catered by Anna's Restaurant.

Family joined together, a meal was shared, information was gathered, stories were told, and heart felt promises to return next year were made.

All in all, it was a great time and the Clark 2000 reunion was a great success!

Thanks to all those that attended, and remember to try to contact those who didn't make it this year and tell them about the event - If everyone helps to spread the word, hopefully we will be able to meet with even more family next year!

Plans for next years event will be posted as soon as they are available.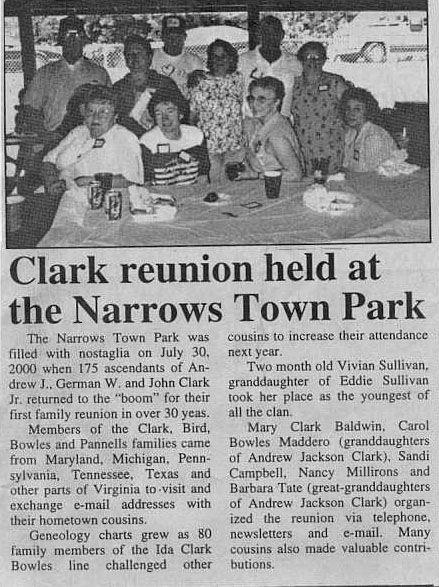 Above is a news clipping from The Virginia Leader published in August 2000
Clark Reunion Narrows, Virginia 7/30/2000
Descendants of Andrew Jackson Clark & Mary Elizabeth Melvin
Below is a partial list of participants for this years reunion. (2000) If anyone recognizes that someone that was there is not listed here, please notify us so we can add them. I'm certain I've butchered many of the names below, please send corrections.
Baldwin, Mary Clark, - Bird, Jim - Bohanan, Billy - Bohanan, Dennis - Bohanan, Tiffany - Bonanan, Delinda - Boughman, Bowles, Joyce - Bowles, Tom - Bowles, Beth - Bowles, Mike - Bowles, Doris - Bowles, Linda - Bowles, Sissie - Bowles, Brenda - Bowles, Rick - Broughman, John - Broughman, Tom - Broules, Scottie - Broyles, Sharon - Campbell, Billy - Campbell, Jim - Campbell, Laura - Campbell, Sandy - Campbell, Travis - Carter, Earl - Carter, Ida - Chambless, Betty Clark - Chambliss, J. R. - Clark, Betty - Clark, Hamp - Clark, Jack - Clark, Dally - Craft, Brandie - Davis, Rosie - Davis, Duane - Dillon, Mary - Dove, Susy & Cory - Faith, Vivian - Harvey, Jessie - Hohl, Rita - Hufffman, Debbie - Ingalls, Mallory - Ingalls, Jenny - Irvin, Mildred - Jackson, Cody - Johnston, Roger - Keller, Ruby - LaRock, Carolyn - Lawrence, Jerry - Madero, Carol - Mantel, Sophia - McConkey, Becky - McDonald, Pam - Mehalka, Rachel - Millirons, Nancy, - Mills, Elaine - Mills, Datie - Mills, Lane - Panelle, Gloria Scarano -Patterson, Carl -Patterson, Dorthy - Payne, Darlene - Reynolds, Joy - Rizzo, Matthew - Robertson, Charlie - Robertson, Heather - Rode, Jerry - Saunders, Bill - Saunders, Sandy - Saunders, Robin - Saunders, Trisha - Scarano, Skee - Smith, Bea - Smith, Apple - Smith, David - Smith, Becky - Smith, Dale - Smith, Brenda - Spencer, Eula - St. Clair, Bill - St.Clair, Cynthia - St.Clair, Becky - St.Clair, Wade - St.Clair, Sheila - Sullivan, Carol & Little Bridget - Sullivan, Arieal - Sullivan, Jeramie - Sullivan, Kyle - Sullivan, - Sullivan, Vivian (youngest) , Eddie - Sunders, Pat - Tate, Barbara - Tate, Jenny - Thorne, Pam - Thorne, Buddy - Wester, Debbie - Wester, Donna - White, Curtis - White, Jeff - White, Barb - White, Rhonda - Wilkens, Baldwin, Carol - Williams, Wayne - Wood, Josh - Woods, Erica - Wester, Earl Jr